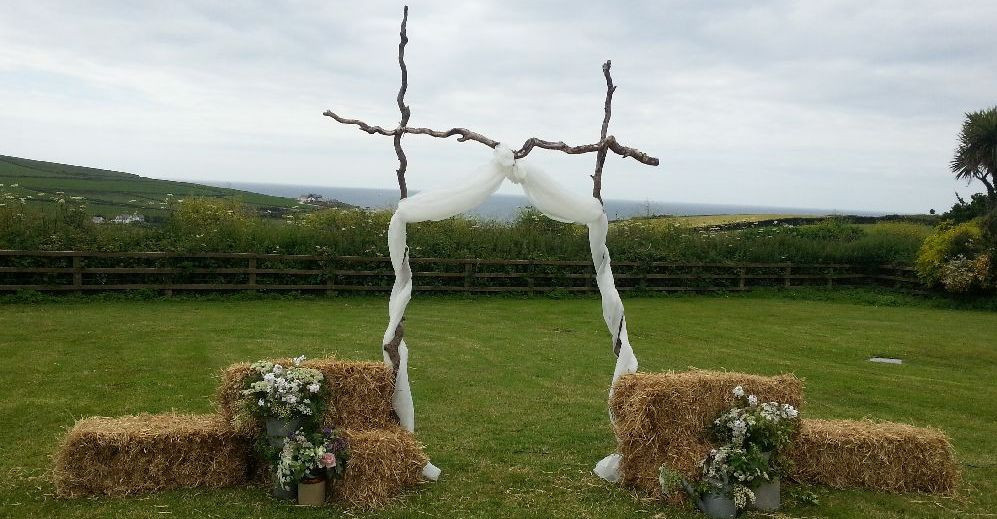 Just in case you don't already know this, one of the many joys of using an independent celebrant for your wedding ceremony is that you are able hold your wedding ceremony just about anywhere. You can have your legally binging marraige ceremony at a registration office before or after you have your independent wedding ceremony how, where and when you want.
You may still choose a venue licensed for marriages but you don't have to and there are so many other options open to you.
Have you thought about a village hall? You may live in or very close to a village with a lovely hall and if you are lucky it may have some or all of these features:

outdoor space: its own garden or even an adjoining field
more than one room
a kitchen
easy access for all abilities
a car park
a great view
It is also possible to seek out halls with the features you like and in places you love. Many halls have websites so use a search engine
Seven great reasons to use a village hall:

Cost. This is a really budget friendly option, think of hundreds rather than thousands of pounds for the space. This will leave more of your budget to spend on choosing the suppliers who will help you create the celebration you wish for.


Giving back. For a real feel-good factor, how great to know that by hiring a village hall you are contributing to their fund-hungry coffers. Village hall committees are often seeking ideas to raise the money needed for maintenance, repair and improvement of their important village resource and some even have commitments to support local charities.

Inside and outside. Depending on the available outdoor space ~ and the weather, of course ~ you could hold your ceremony outside and reception inside. Plus the inside is there for plan B (always have a plan B!) There are even some halls with enough outside space to permit overnight camping.


Kitchen and catering facilities. If they have a kitchen, there is usually catering equipment included in the hall hire. But if you want and can afford to, you may still use your own, or hired, items.

An extra room. Where there is a second room you would be able to have a chill-out space (did you know you can even hire sofas for the day?) or perhaps a space for toys or activities for children.

Caring for the environment. You are in control of everything that you bring into this space, how it is used and what happens to it afterwards, so your rules apply. If you want an eco-friendly wedding a village hall venue can give you the freedom to ensure a minimum of waste and the use of the environmentally friendly materials you choose.

Setting the tone. Either through creative diy or by hiring an event decor service, you can create the atmosphere that suits your day. You need not be constrained or influenced by, for instance, the imposing grandeur of a castle, the routines of a hotel, the rules of an historic house... You can choose attractive and stylish simplicity to be your backdrop and then centre stage can be held by your love for one another.
Other great options are farms with barns and ceremony space. These venues are often particularly good for weddings with a festival vibe. Although they cost more than a village hall, they do come with great facilities, flexibility, support and guidance from the owners and almost always beautiful views. Many also have space for camping and other guest accommodation.